Richlite Blue Canyon was used to make custom cabinets and lockers for the Pacers Training Facility at St. Vincent's Center. Design by Ratio Architects. You can read more about the project in the excerpt from the architect's website below the photo gallery.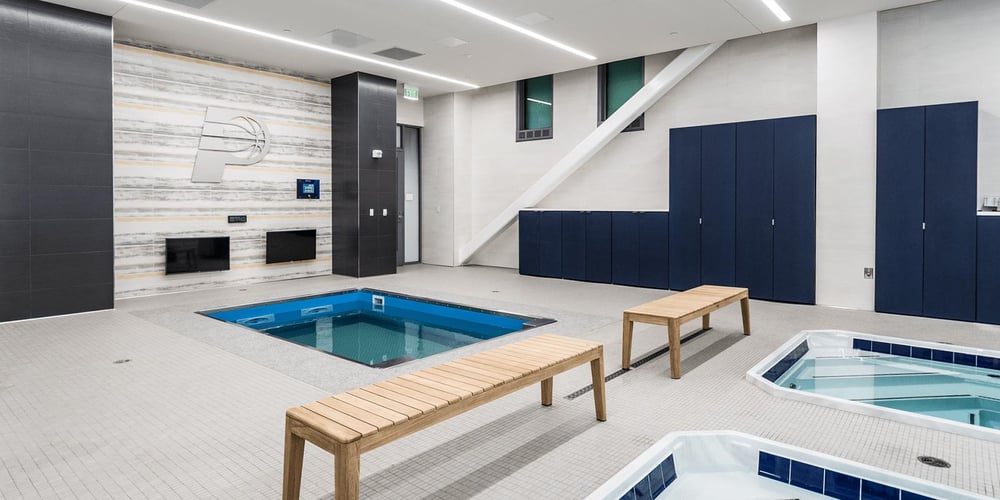 Want to learn more about Richlite?
Click the button below to request a Richlite AIA CES course for your firm:
From Ratio's Website:
In an effort to expand and modernize its training facilities while continuing to attract top-level talent, the Indiana Pacers commissioned RATIO to design a new practice facility on a tight urban site across the street from their home arena in downtown Indianapolis.

The 130,000 sq. ft. St. Vincent Center serves as the most advanced practice facility in the NBA, while also providing high-quality health care for the downtown Indianapolis community through an innovative partnership with St. Vincent Health.

The building houses two NBA-regulation practice courts as well as state-of-the-art training and medical facilities. Pacers Sports & Entertainment corporate offices are located in the Center, allowing future re-purposing of space inside Bankers Life Fieldhouse. In addition, St. Vincent physicians and sports medicine specialists provide primary care, cardiovascular and sports performance services available for athletes and the general public in the Center's top-floor clinic.